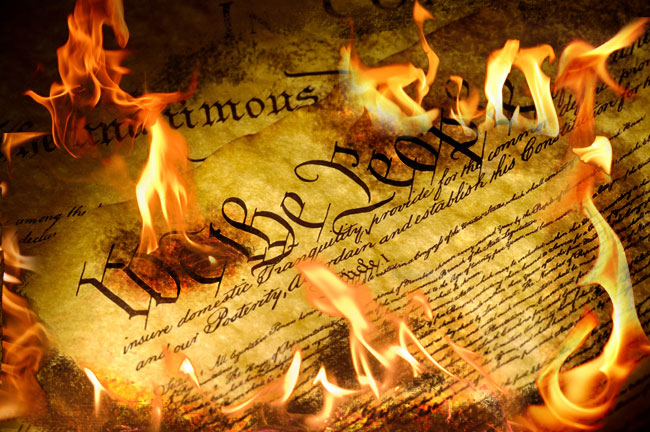 For some reason, I just don't get juiced by the idea of listening to an hour long podcast from an economist, but I'm glad that Ed Driscoll did.
He transcribed the part where Glenn Reynolds, law professor at the University of Tennessee and blogger of Instapundit fame, dropped the boom on the socialist supporters of Georgetown law professor Louis Michael Seidman, who advocates giving up on the constitution.
REYNOLDS: Here's the problem with public officials — because that's really [Seidman's] audience — deciding to ignore the Constitution: If you're the president, if you're a member of Congress, if you are a TSA agent, the only reason why somebody should listen to what you say, instead of horsewhipping you out of town for your impertinence, is because you exercise power via the Constitution. If the Constitution doesn't count, you don't have any legitimate power. You're a thief, a brigand, an officious busybody, somebody who should be tarred and feathered and run out of town on a rail for trying to exercise power you don't possess.

So if we're going to start ignoring the Constitution, I'm fine with that. The first part I'm going to start ignoring is the part that says, I have to do whatever they say.

ROBERTS: But his argument is that we already ignore the Constitution; it's not really much of a binding document.

REYNOLDS: Oh, well, then I'm free to do whatever I want! And actually, that is a damning admission, because what that really says is: If you believe Seidman's argument; if you believe that we already ignore the Constitution anyway, then in fact, the government rules by sheer naked force, and nothing else. And if that's what you believe, then all of this talk of revolution suddenly doesn't seem so crazy, it seems almost mandatory.
Reynolds wrote a column on Feb 4th explaining those views in more detail.