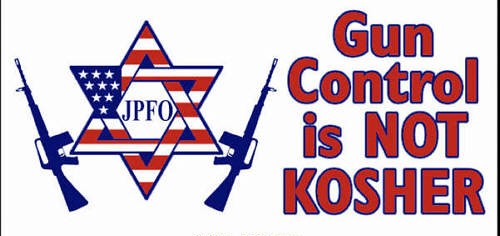 There's good news to report in the coming merger next week of the Jews for the Preservation of Firearms Ownership with the strong and vibrant Second Amendment Foundation.
The Second Amendment Foundation, led by Alan Gottlieb, is most famous for bringing a long string of lawsuits in federal courts to force the recognition of the right to keep and bear arms. We all owe SAF a great debt of gratitude for their work in the successful Heller and McDonald decisions – which have led to subsequent court decisions striking down anti-gun laws.
As an Illinois resident, I am grateful for SAF's "take it to the courts" strategy which forced Illinois to adopt right-to-carry over some very angry anti-gun legislators and a cry-baby, gun-hatin' governor.
JPFO has long been an iconic civil rights organization, fighting for the rights of Jews to keep and bear arms to help ensure there's never again another Holocaust. The organization's founder, Aaron Zelman was a passionate and notable advocate for basic civil rights for most of his adult life and he formed JPFO in 1989. He tirelessly worked to educate people on what happens to disarmed Jews (and Gentiles, as well).
Most didn't realize that JPFO has been in desperate straights for some time now, especially so since the 2010 death of its founder.